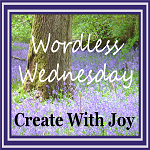 My daughter made this on her drawing program (she has a thing for clocks):
Thanks to Ramona at Create With Joy for hosting this Wordless Wednesday. Click on the WW button to go to the link-up!
~~~oOo~~~
This was supposed to have been up yesterday, but the day kind of got away from me. So here I am.
I wrote 33 posts in May, which was down from my high in April of 54 ... but there's something that happens in April each year that seems to up my total of blog posts for the month. Hmmm.. ;)
My concern is that I still haven't set aside a regular time to write, and specifically not set aside time for non-blog-related writing. And how am I supposed to strengthen my writing chops when I don't have a regular time to work? Y'know how they say the road to h-e-double-toothpicks is paved with good intentions? Well, I must be on that road...it's a steep downward grade and my brakes are out. That is what it feels like. Ugh.
~~~oOo~~~
PERSONAL
go to the dentist (I've been putting this off because I have dentistophobia big time.)

UGH. I totally blew this one. :/
MARRIAGE
celebrate our 19th anniversary on the 9th!

HUZZAH!
FAMILY
trim the number of furry family members by at least 5.

FOUND FOREVER HOMES FOR 3.
SPIRITUAL
choose one of the nearby churches to attend

LINCOLN COUNTY MENNONITES about 1/2 to 1 mile down the road from us.
PROFESSIONAL
learn to start a virtual book tour company/site.

I HAVE BRAINSTORMED ABOUT THINGS TO DO.
WRITING
dedicate some time to writing each day and stick to it at least 4 days out of every 7.

NEAR EPIC FAIL.
Wow...not nearly as good as I had hoped, but not nearly as bad as it could have been either. For a first month, I'll take it.
~~~oOo~~~
PERSONAL
make an appointment with the dentist.
MARRIAGE
Have a date with my husband.
FAMILY
Have one non-computer based family get-together per week (she says while typing this on the computer).
PROFESSIONAL
Contact one virtual book tour company each week to compare notes.
WRITING
Write 500 words/day, at a 'usual time' would be nice but I'm concentrating on a certain volume of writing rather than a schedule this time around.