The 2018 COYER (Clean Out Your E-Reader) Reading Challenge is hosted by Berls and Michelle @Because Reading. Rules are below. Click the button above to go to the sign-up page!
Read Your E-Reads! Every book you read MUST be in an electronic format – meaning E-Book or Audiobook. It's okay to start a book before December 1st, you must be less than half way for it to count then review it during COYER.
The books must be FREE or NEARLY FREE! This includes review books, tour books, NetGalley, Edelweiss, etc. What's nearly free? No more than $2 for eBooks and no more than $5 for Audiobooks (or the equivalent in your currency). This does NOT include library books, borrowed books, or Kindle Unlimited books.
Announce your participation! This can be a blog post (or if you don't have a blog – Facebook, Twitter, Google+, Booklikes, Goodreads, Shelfari, etc.) If you want to list books you would like to read, that's great, but not necessary. The point is to let everyone know you're committed to COYER, maybe share some goals, and help spread the word. Not sure how to do your post? Check out this example from a previous COYER.
Link up! Link that post (not just your blog homepage) to the linky below. (remember if you signed up before our site crashed we need you to sign up again)
Review & Link Reviews! Your review may be on your blog, Goodreads, Shelfari, Booklikes, etc. Link the review to the Review Linky (which will be available on the kick off post on December 1st).
We are giving away (2) $10 Gift Cards. One is for the review link and the other is for a goody type of giveaway. It will be for readathons, participating, visiting, etc. We will have all the info on the kick off post.
Visit Each Other, Chat & Have Fun!
~~~oOo~~~
I never have a problem with the reading, but fall flat as a pancake on the record-keeping and updates of reading challenges. So, here I am, going for it again! And I couldn't think of a better book to start with than:
-to give you an idea, and to show you that the books on my e-reader are almost as old as I am (!), I've had "21 Days" on my Kindle since before Halloween
2112
! The other 'oldest' reads are from not much past that. I'm aiming for 10 reads, trying to mix up genres and fiction/non-fiction, etc. etc. etc.
My List:
1. Silver Bells Slaying by Madison Kent (5 Dec)
2. Treasures of the North by Tracie Petersen (6 Dec)
3. The Mystery at Underwood House (8 Dec)
4. The Donut Shop Murder (9 Dec)
5. Gluten-Free Murder (15%)
6.
7.
8.
9.
10.
I'll add links to review posts as I go (yeah, fingers crossed on that one) and reveal just long each book has been on my e-shelf. Hopefully I won't get so embarrassed that way and want to go hide in the stacks! :p
So click on the button at the top of this post, join in and declutter your eclutter with the rest of us!
Fun question:
Just how full is your e-reader? Give yourself a totally subjective rating from 1-10
1-being that the lone ebook on your ereader desperately needs some company to
10 - one more book on your ereader will take out large portions of the national power grid!
Yeah, I'm at least a 9.9! *faint*
~~~oOo~~~
Also sharing with: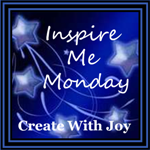 Thanks to Marlene of Tynga's Reviews, Kathryn at Book Date, and Ramona at Create With Joy for hosting these respective link-ups! (Click on the buttons to go to the respective blogs.)
~~~oOo~~~
Updated 6 Dec 2018 to add first two books read.