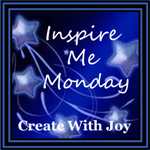 I will be participating in a 31-day challenge during the month of October, where we are supposed to write each day on a single topic. Now, I'm not giving away my theme...exactly, there are four posts I've scheduled for the latter part of October on which I need some lead time.
Here's what I propose:
CONTESTS
1. I will create a vegetable recipe, featuring your favorite vegetable(s), and named after you, your favorite team/pet/etc, or to go along with a character or book you have written.
2. I will create a fruit recipe, feature your fruity favorites, and named after you, etc.
3. I will create an herb recipe, using your favorite herb/s, and named after you, etc.
4. I will create a recipe, using your favorite animal product/s, and named after you, etc.
Each winner will be contacted by email to hammer out particulars (allergies, etc) and then the four recipes will be featured on Back Porchervations' posts from October 20-24. Are you ready to become immortalized in a recipe? The entries will close September 30th.
HOW TO ENTER
Leave a separate comment for each entry. Please include your site name/link (Twitter, FB, Pinterest, etc) in your relevant comment:
1. Leave a comment with your favorite vegetable, fruit, herb and animal products. (If you don't include a vegetable (etc), I'll assume you don't want to be considered for that contect.)
2. Follow Back Porchervations by email.
3. "Like" Back Porchervations on Facebook.
4. Follow me (@Kentuckygal) on Twitter.
5. Follow me (LuAnn Braley) on Google+.
6. Follow me (LuAnn Braley) on Pinterest.
7. Follow Back Porchervations on Bloglovin'.

Before you go, here's a giveaway for a Pickle Biotic Home Fermentation Kit at Herb Magik that needs some love. Do you love pickled foods and/or have a garden/farm? This is a great contest for you! It is open for about another 2 days.